Basic Understanding of Wi-Fi 6E (802.11ax in 6GHz)
---
Wi-Fi6 is the standard for 802.11ax which can operate in 2.4GHz and 5GHz band only. Now Wi-Fi6E means, Wi-Fi6 extended ["E" in Wi-Fi 6E stands for "Extended] to 6GHz spectrum.
Let us first see some comparison table for Wi-Fi5, Wi-Fi6 and Wi-Fi6E. And try to understand the differences.
Understanding the comparison through some pictures:
I hope we already know this below table.
1.
2.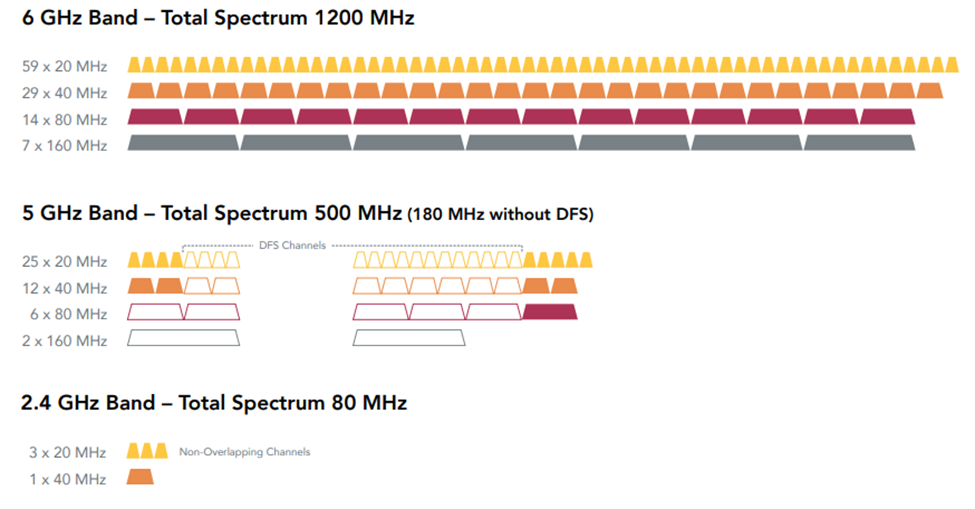 3.
4.
5.
6GHz channels:
Total 1200MHz (1.2GHz) of bandwidth is released by FCC to use for Wi-Fi as unlicensed frequency band in US. 500 MHz of spectrum is released in the EU.
Wi-Fi6 vs Wi-Fi6E:
| | |
| --- | --- |
| Wi-Fi6 | Wi-Fi6E |
| Operate in 2.4GHz, 5GHz. | Operate in 6GHz. |
| Backward compatible with legacy standard like 11ac,11n,11g,11a,11b etc. | Not backward compatible with legacy standard because there was no standard in 6GHz. |
| Frequency band is already available in maximum countries. | Frequency band is only opened to few countries like United States and other countries (Brazil..). As of April 2023, still INDIA has not opened this band for Wi-Fi. |
| Some features: 8×8 uplink/downlink MU-MIMO, OFDMA, and BSS Color, WPA3, Target wake time (TWT), 1024 quadrature amplitude modulation mode (1024-QAM). | Same features as Wi-Fi6 but operating in 6GHz Band. And adding 59 additional 20 MHz channels, 29 additional 40 MHz channels , 14 additional 80 MHz channels and 7 additional 160 MHz channels |
| More interference as legacy devices are there in same 2.4GHz and 5GHz band. | More contiguous spectrum and less interference as no legacy devices are there in 6GHz |
| 2.4GHz wireless spectrum uses longer wavelengths, so it can travel longer. | 6GHz wireless spectrum uses shorter wavelengths that means data transfer is faster but it cannot travel longer. Also it suffers interference from physical obstructions like dense walls or floors. |
Conclusion:
From this article we have learned some basic details between 802.11n, 802.11ac, 802.11ax and 802.11ax in 6GHz. We will learn more details in 6GHz in future posts.